The Spanish Language Blog
This blog is dedicated to anyone interested in Spanish language and culture.
Learn what it's like to study abroad, get news information and find resources to practice Spanish, get information about our courses and programs, meet our students and teachers as well as get useful tips and advice for travelling in Spain or Latin America.
Come discover our passion and start Blogging Spanish!
Front Page News
by Diego on Monday, October 16, 2017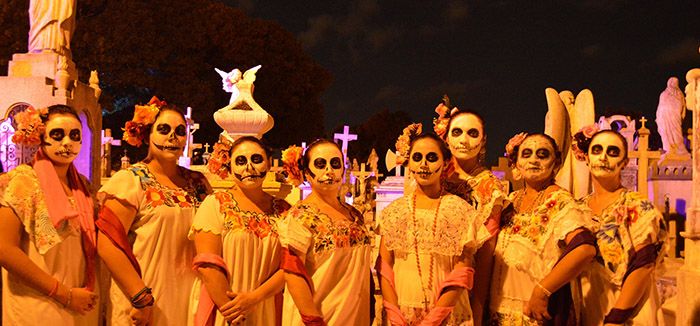 El día de los muertos es un día muy especial en México. Lejos de ser una jornada triste o tétrica, su color, su animación y su estética celebran la vida y su triunfo sobre la muerte. Es algo que va más allá de los dulces, del maquillaje, de la vestimenta… Por eso os vamos a mostrar los significados que hay detrás de la belleza de este día.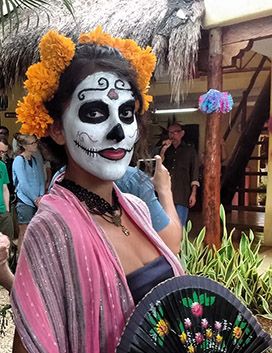 En primer lugar deberíamos hablar de las vistosas Catrinas, las divertidas representaciones de una calavera o los huesos de una dama bien vestida. Su invención data de 1910, cuando figuras de esqueletos animados aparecían en los periódicos como sátira a la política de la época. La Catrina, que por aquel entonces se llamaba "Garbancera", representaba a aquella parte de la sociedad esnob que se vestía, hablaba y actuaba como si fuera extranjera, olvidando sus raíces. El mismísimo Diego Rivera se enamoró del personaje y le puso el nombre que todos conocemos hoy, "Catrina".  Hoy la Catrina se ha convertido en protagonista indiscutible del día de los muertos y hasta en toda una "it girl". De hecho la escuela de diseño de la bella ciudad de León, en el estado Guanajuato, organiza cada año un desfile de moda en el que sus estudiantes muestran sus creaciones basadas en este personaje.  En otro de nuestros destinos, Oaxaca, las Catrinas también desfilan, pero esta vez por las calles y a modo de estremecedora comparsa.
Los dulces típicos de esta fecha son las calaveritas de azúcar a las que también se las llama "alfeñiques". A menudo se las ve como ofrenda en los altares que llenan calles y vecindarios durante este día, pero también son muchos los que la regalan a amigos y familiares. Por ello se les puede poner el nombre del destinatario. El origen podría estar en los ritos funerarios de las culturas mesoamericanas, en los que se usaban los cráneos de antepasados fallecidos.  Hoy los alfeñiques también son objeto de devoción en una feria destinada exclusivamente a ellos que se celebra en León. Hay multitud de modalidades de este dulce, que llena el estómago, endulza el espíritu y encanta los ojos… read more »